"Christy did a wonderful job. She is in tune with today's work environment. The information she presented was relevant and value-added. She made for a fun learning environment. I wish there were more like Christy Largent. She is a terrific speaker."
Jerry Hamill
- Executive Officer, Sunnyvale, CA
"Christy is a dynamic, knowledgeable presenter. If she is the presenter, that information should be included in promotional information. If someone has taken a class with her, they'll take another!! I loved the day. Excellent!"
Ruthann Fenske
- Accounting Rep. | Duluth, MN
"This was absolutely wonderful. I loved the entire thing! I found the information useful, and Christy's sense of style and delivery of this information was phenomenal!!"
Hope Gilchrist
- Managing Supervisor | Memphis, TN
"You did a super job today Christy. I enjoyed the seminar immensely and learned many techniques I will be able to apply to my personal as well as professional life. I especially like how Christy related the importance of good communication to our inner and authentic selves as well as to our business life. I'm leaving this seminar with a new perspective on how my communication skills affect the people I live and work with. Thanks Christy."
Abby Miller
- Property Management director | St. Cloud, MN
"Christy Largent is a gifted presenter, she seemed to gain and hold the group's attention easily. She was very engaging and moved us well through stimulating exercises and lessons. There was never a dull moment and I'm going to continue the learning process with the materials she suggested. She was convincing and obviously believes in what she is "preaching." She shared stories from her own development using the tools and this made it more compelling. I highly recommend Christy."
Ashley Reed
- Account Development | San Francisco, CA
"I thoroughly enjoyed it. I'd love to attend another conference with Christy as the speaker. She addressed women's issues so completely and without apology for what we deal with."
Cat Yokom
- Real Estate Agent | Fargo, ND
"Today was great! Christy was fabulous. She was funny, interesting and a wealth of useful, applicable information."
Michele Hiscock
- Marketing Director | St. Cloud, MN
"Christy is a dynamic, energetic leader. She gave me good insight and concrete examples to take back to my job as a manager. THANK YOU! (SHOUT)"
Vivian Bachman
- Systems Manager | Memphis, TN
"Everything was great! I didn't have a sleepy moment. It was very eye-opening. Christy was great! She had great examples and stories to tell. I really liked all the resources she gave. As a trainer myself, the hardest audience to train is other trainers. But she definitely passed the test!"
Erika Gaynor
- Process and Training Analyst | Duluth, MN
"Today was wonderful. Not only did you go great with the subject – but what a wonderful motivator! I am leaving today feeling the most positive feelings. I haven't felt like this in a long time. Thank you."
Amber LaFountain
- Systems Designer | Albany, NY
"Today was very exciting and helpful. I will highly recommend this seminar to all others at our place of business."
Donna Sasaniak
- Accounting Manager | St. Cloud, MN
"Excellent class! Christy is very energetic and it is obvious that she is very passionate on this topic of interpersonal skill development. I would highly recommend this class to anyone in the workplace, and even to people on the personal level."
Rocco LaBella
- Marketing Director | Utica, NY
"Christy is one of the best trainers that I have ever been taught by. She's enthusiastic, knowledgeable, and easy to relate to."
Tammy Marcus
- Senior Analyst | Boulder, CO
"Great class! Everyone company wide should attend."
Tom McCallem
- Human Resources Director | Portsmouth, NH
Get Christy's Book
Are you tired of communication mix-ups? Do you wish you could speak easily with confidence and style? Christy Largent has learned that positive communication works! In fact, there are specific ways you can improve your communication skills so that you can get the results you want.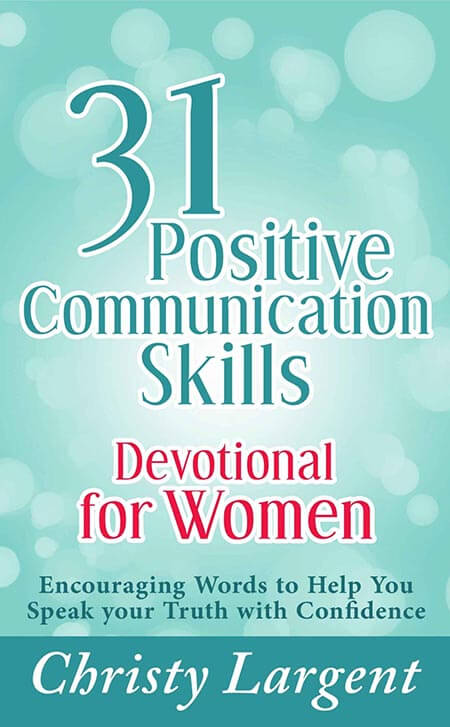 As an engagement expert and mentor, Christy understands the things that hold people back from living out their best, most fully engaged life.

 

That's why she offers programs and coaching designed to best meet your needs for where you are right now.
If you're…
Not sure what to do with an idea you have

Afraid to make a move in case it's the wrong move

Overwhelmed by all the options there are for using social media

Confused by where to start
Or you're ready to…
Move forward on the idea that's been percolating around for months (or years!)

Start taking actionable steps towards beginning a new business

Set aside the fear that's been holding you back and keeping you stuck

Eliminate the confusion over what to focus on next

Grow your business to the next level
Then you'll want to let Christy help you in 1 of 3 ways…
Personal Coaching Session
This session is where Christy will help you assess where you currently are, and help you figure out how you can use your passions, gifts and talents for their highest and best use. She will ask a ton of questions and help you gain clarity on the next steps you can take to start or grow your business or non-profit. 
You will receive a recording of the call to reference and will have a 90-day-plan in hand to begin working. Within the 90 day plan, you will get a 45 minute follow up with Christy to fine tune your work.
Personal Coaching Session Includes:
Pre call Questionnaire

90 minute recorded call

45 minute follow up call within 90 days
Living Engaged Mastermind
This is a monthly mastermind where you get the benefit of Christy's expertise and engagement to keep you moving towards your goals all month long. Not only will you get a 90-minute monthly engagement training call including Q&A, but each month, one member of the mastermind gets the opportunity to sit on the "hot seat" for targeted help with their business during the mastermind.
You'll also experience the benefit of the group, as you get to know other professionals inside our private Facebook group. Additionally Christy will hold a weekly live engagement video inside the group to keep you motivated and engaged.  You must submit an application in order to be accepted into this program. Each member is vetted and approved by Christy.
Living Engaged Mastermind Includes:
Monthly 90-minute-call with hot-seat for 1 member

Private Facebook Group

Weekly Engagement video inside Facebook group
Coming Soon!
30-day Engagement Bootcamp
From Idea to Implementation in 30 days or less
If you're seeking help on your own terms and in your own time, this course is perfect for you.  In this online bootcamp, you'll have the opportunity to…
Clarify your concept

Eliminate barriers that are holding you back

Create a 30-day plan of action

Begin implementing your custom strategy
This 30-day Engagement Bootcamp includes:
Video Training including:

3 sections – 4 modules in each section (12 videos)

Workbook